The aim of this course is to familiarise users on the functions of Moodle.
The topics covered on this course:
Logging onto Moodle
Using your dashboard
Editing your Moodle page
Uploading content
Managing your learners
Communicating with learners through Moodle
Learner Diary
Advanced tips and tricks
Potential: use as an online teacher training resource.

This Moodle course aims to demonstrate how Moodle can be used to deliver online learning to our learners.
The course will cover the following topics:
Using Moodle to communicate securely with learners.
Sharing resources with learners.
Setting assignments and receiving work from learners.
Using the Learner Diary to record progress and give feedback.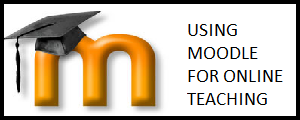 Staff development training course which shows the different Moodle activities which can be used for written peer, self and tutor feedback.